Goodix GR551x Bluetooth LE SoC Achieves PSA Certification
Time : 2021-09-26
Source : Goodix
Goodix GR551x Bluetooth Low Energy (Bluetooth LE) System-on-Chip (SoC) series has been awarded PSA Certified™ Level 1, acknowledging the company's resolute commitment to IoT security. The certification recognizes security best practice by international security certification laboratories. The innovative solution will aide customers around the world to accelerate the development of secure IoT devices.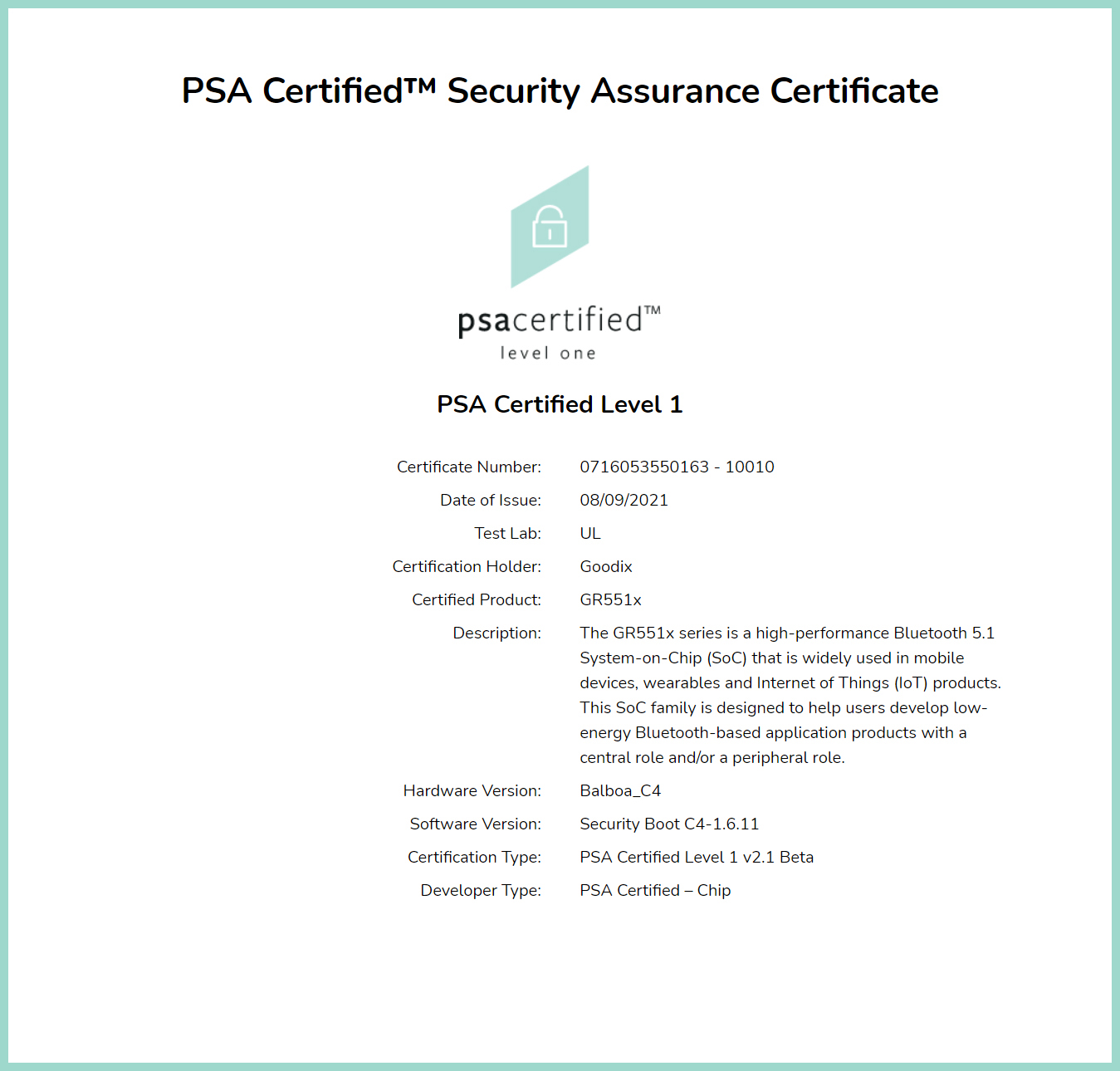 The number of devices connected to the internet is increasing at an exponential rate and the Internet of Things (IoT) is facing unprecedented security challenges. Growing cyber threats mean ensuring the security of every IoT node is of utmost importance. The GR551x SoC series stands out by satisfying the security needs of various IoT applications – from secure boot and running, to firmware upgrade and critical data protection; all guaranteed thanks to a comprehensive security computing engine and an all-round security mechanism. Since the debut of GR551x series in 2020, Goodix has delivered over 10 million pcs worldwide to prominent smart device brands and ODMs. GR551x is widely applied to IoT products such as smart bands/watches, electronic shelf label systems, trackers, styluses, printers, and game controllers.
PSA (Platform Security Architecture) certified, co-founded by Arm and multiple independent security evaluation laboratories and consulting organizations, provides independent evaluation and certification for chips, software, and devices in the IoT field. The Goodix GR551x SoC series fully meets the 10 security goals of PSA Certified™ Level 1 and complies with relevant IoT security laws and regulations in the United States (NISTIR 8259A), European Union (ETSI EN 303 645), as well as other countries and regions — providing a secure and trusted foundation for IoT devices.
"Goodix places security at the core of our DNA, throughout the entire life cycle of our innovative products," said Sandy Hu, President of Goodix Technology. "Adhering to stringent and demanding security standards, we're delighted our efforts in product security have been widely recognized by worldwide evaluation bodies and customers. We aim to continue bringing more secure and convenient user experiences to consumers around the globe."
For more product information, please visit: